Meet the First Lieutenant Commander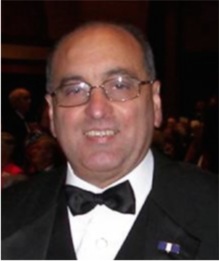 At the Valley of Boston Installation in April, Roy J. Leone, 33o, First Lieutenant Commander of Massachusetts Consistory, spoke on behalf of the Commander in Chief.
Bro. Roy Leone, of Tewksbury, was raised in September of 1980 in Thomas Talbot Lodge in Billerica, where he served as Worshipful Master in 1988. In 1994, Bro. Leone was presented the Joseph Warren Medal for Distinguished Service.
Right Worshipful Leone served as District Deputy Grand Master of the old Lowell, 12th Masonic District of Massachusetts, in 2001-2002, and was Deputy Grand Master of the Grand Lodge of Masons in Massachusetts in 2004 under Most Worshipful Donald G. Hicks, Jr. Bro. Leone was presented the Henry Price Medal for Meritorious Service in 2004. Bro. Leone has served as a board member of many Masonic committees which include the Museum and Library, Membership, Masonic Home, and the Grand Lodge Board of Directors.
Bro. Leone has been a member of the Valley of Boston for nearly 25 years. He became a 32o Mason in the Valley of Boston in November of 1990. Bro. Leone has been the 1st line signer on 15 membership applications since joining. Bro. Leone decided to join the Rite because he saw Scottish Rite as an opportunity to meet more brothers than those just from his Lodge. While he made great friends with brothers in his Lodge, Scottish Rite gave him the opportunity to meet brothers from many different lodges.
He was elected an Honorary Member of the Supreme Council for the Northern Masonic Jurisdiction on August 29, 2005. He was installed as First Lieutenant Commander for Massachusetts Consistory in April of 2012.
Bro. Leone belongs to all four bodies of the Valley of Boston, as well as the bodies in the Valley of Lowell. In addition to belonging to these Scottish Rite bodies, Bro. Leone is a member of several York Rite bodies as well as belonging to the Aleppo Shrine. Bro. Leone is a Past Thrice Potent Master of Lowell Lodge of Perfection and is also a Past Commander of St. Bernard's Commandery #12 in Boston.
Bro. Leone went to Medford High School in Medford, MA. After graduating high school, he attended the University of Massachusetts in Lowell where he majored in Accounting. He graduated with his Bachelor's degree in 1978. He began his career as an accountant for Gillette and worked for many other companies before retiring as the Director of Finance of the Lawrence Housing Authority in 2008.
Roy is happily married to his wife, Donna, of 41 years. While Bro. Leone may not have any children, he has many brothers. Masonry is his life.