New Massachusetts Consistory Jewel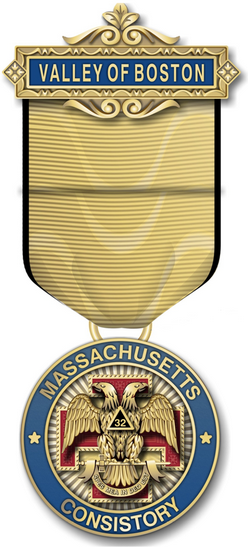 The Massachusetts Consistory member jewel is unique among those presented within the Scottish Rite. It was custom-designed to represent the lessons learned and principles inculcated in Scottish Rite degrees. The jewel illustrates the strong link between Massachusetts Consistory and our Scottish Rite heritage. It also emulates our close ties to Blue Lodge Masonry and the Grand Lodge of Massachusetts.
The jewel is the emblem of Massachusetts Consistory. Its starburst background represents man's eternal quest for further enlightenment in Freemasonry through the Scottish Rite.
The header bar indicates the pride stemming from your membership in the Valley of Boston. This is particularly important to those who have taken a portion of their degrees in a surrounding Valley. This part of the jewel shows that although you may be a member elsewhere, you are warmly welcomed as a member of the Valley of Boston.
The Massachusetts Consistory colors are displayed as a ribbon of gold and black. The blue background of the header bar and the circle around the medal is representative of our ties to Blue Lodge Masonry; it shows Scottish Rite exists by the virtue of its roots in Freemasonry.
The jewel proudly displays the Teutonic cross, an emblem of the most ancient chivalric orders dating back to the year 1191. The Teutonic Cross is surmounted by the double-headed eagle of Lagash, the oldest royal crest in the world. The eagle rests on the Sword of Justice from which the Consistory motto hangs, "Spes mea in Deo est." "My hope is in God" is the lesson of the 32nd degree. The highest degree or the order is represented by the 32 in the triangle.
It is the hope of Massachusetts Consistory that you will wear this jewel proudly at all Scottish Rite meetings as a sign to others that you share the richness, beauty, and camaraderie of the Scottish Rite, as well as that of the Valley of Boston.