Famous Freemason: James K. Polk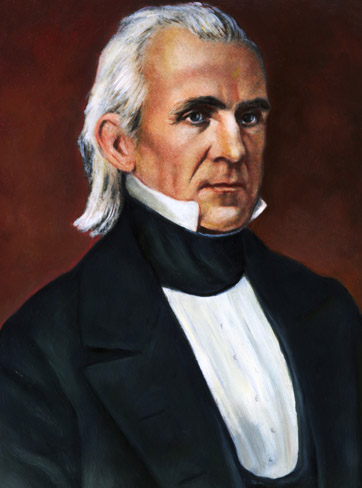 Our nation will be observing Presidents Day this month and, with that in mind, the Valley of Boston finds that it would be a fitting time to look at a former President who was also a Mason. In the past, we highlighted five of the 14 Masonic Presidents, Teddy Roosevelt, George Washington, Harry Truman, William McKinley and James Monroe. With those five already covered, we've decided to take a look at the 11th President of the United States, President James K. Polk.
Born on November 2, 1795, in what is now Pineville, Mecklenburg County, North Carolina, James was the oldest of 10 children. He was the son of Samuel and Jane Polk who were of Scottish and Irish descent. In 1806, Polk and his family relocated from North Carolina to the area that is now Maury County, in Tennessee. Bro. Polk was a frail child growing up, because of this he declined entering into one of his father's business and instead pursued an education. He attended Bradley Academy in Murfreesboro in 1814, and in January of 1816, he was admitted into the University of North Carolina. While attending school in North Carolina, Polk shared a room with William Dunn Moseley, who would later become the first Governor of Florida.
After graduating Polk returned to Tennessee and began working in the Law Office of Felix Grundy. On September 20, 1819, Polk was elected Clerk of the Tennessee State Senate, a position he held until 1822. In 1820 he was admitted to the Tennessee bar, and his first case was defending his father in court, a case which he won and used to launch a successful law career. On June 5 of the same year, he petitioned and joined Columbia Lodge No. 31 in Columbia, Tennessee. He was passed on August
7,
and raised on September 4, 1820, he became Junior Warden of the Lodge on December 3, 1821, and served in that capacity until his public duties took him away from the Lodge. In January of 1821, he received his Mark Master Degree in Cumberland Chapter No. 1 R.A.M. of Nashville, Tennessee. From there he put his masonic path on hold for a while, as he ran for the Tennessee House of Representatives. This election was not until August of 1823, so between 1821 and the election he campaigned energetically while simultaneously beginning a courtship with Sarah Childress. In 1832, Polk soundly defeated his opponent William Yancey for the seat in the Tennessee House, and in the same year, he became engaged to Sarah Childress. In 1825 he returned to masonry and received his Past, Most Excellent, and Royal Arch Degrees on April 5, 22, and 24 at LaFayette Chapter in Columbia, Tennessee. Polk continued in Tennessee's House of Representatives until August 1824, when he announced his campaign for the U.S. House of Representatives from Tennessee 6th Congressional District. Despite being the young age of 29, Polk took the seat and joined Congress later that year.
From this initial victory, Polk's political career advanced quickly. In December 1833 he was elected to a fifth consecutive term and was appointed as chairman of Way and Means, which was a powerful position in the House. In 1834 Polk made a run for the Speaker of the House position, which was left vacant by Andrew Stevenson. Polk ran against John Bell, and once again emerged the victor. In 1835 he made a bid for the Governorship in Tennessee but was defeated. This defeat called his political career in question, but Polk rebounded from this defeat a decade later in 1845 when he was elected the 11th President of the United States. Polk became the first President to win the election, but lose in his state of residence, as Tennessee was carried by Henry Clay of the Whig Party.
Polk was only a one-term President, but he is often regarded as one of the most successful Pre-Civil War Presidents. At the start of his Presidency, he put forward four Presidential goals. First, to establish the Independent Treasury System, second, to reduce tariffs, third, to acquire a portion of or all of the Oregon Territory, and finally to acquire California from Mexico. Polk was successful in all of these endeavors. In spite of his success, the Presidency took a toll on Polk. He entered the Presidency full of energy but left a tired and sick man. He left office in March and passed away on June 15, 1849. Originally buried in Nashville, his remains were moved to the Capitol grounds on May 22, 1850. Here, he was interned with a Masonic Ceremony.
Brother Polk was only one of many prominent historical figures who bear the title of Brother. Despite his short life, he accomplished a great deal, and you can read more about him here. To read about another famous freemason, click here!
---
© 2018 Scottish Rite Boston | 186 Tremont Street, Suite 705, Boston, MA 02111-1095 | (617) 426-8228
webmaster@scottishriteboston.net | All Rights Reserved
The Bodies of the Scottish Rite, sitting in the Valley of Boston, Commonwealth of Massachusetts, acknowledge and yield allegiance to the Supreme Council, 33°, of the Ancient Accepted Scottish Rite of Freemasonry for the Northern Masonic Jurisdiction of the United States of America, whose Grand East is in Lexington, Massachusetts.